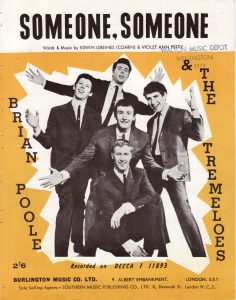 SOMEONE SOMEONE
When the Tremeloes and me were in our teens, (now that phrase will tell you how old we are now), we  took  a trip on the No 126 bus to the East Ham Granada to see Buddy Holly and the Crickets.  This was in the late 50's.  By 1960 we used to play at American Air Force bases about twice a week, and the Crickets were our main source of material.  So in fact in my last few weeks of A level studies I was mixing  Buddy Holly with William Shakespeare and just getting away with it.
Most of The Crickets material in those days was Rock n Roll, with a slight country feel and we eventually had four one hour sets of dance music,  which we played at bases all over Southern England including the American Embassy, Douglas House in London.  Our main professional work venues eventually were dance halls because theatres were just not an option in those days.  Mind you a few years before this we used to play at Odeon, Gaumont and Granada theatres between the films (Pic)
By 1962 we had plenty of studio experience being asked to put the backing vocals to many of the successful records of the time. The Vernon Girls, Tommy Steele, Jet Harris, Tony Meehan, Delbert McLinton, Jimmy Powell and even Jimmy Saville's one and only single, the scourge of  the present day P.C. do gooders, Ahab the Arab.
By playing one kind of music all over the country, we had built up a massive following in the dance halls, and that music was Rock n Roll with backing vocals and harmonies learnt from songs sent to us by Norman Petty and anyone else we could write to.  Our Manager, Peter Walsh, was in contact with Norman Petty from the time we all met at the East Ham Granada in the late '50's .  We were also in touch with Leo Fender through our great friend Jim Marshall, so the music was flowing.
Because of our Rock n Roll style and our huge fan base we had successful singles with dance songs Twist & Shout and Do You Love Me which went to No. 1, both American songs and eventually Norman Petty sent us a bunch of songs including Jim Reeves'  After Awhile and our favourite Someone Someone by The Crickets.
When we eventually stopped touring for a while, Decca Studios at Broadhurst Gardens Hampstead were booked by Peter Walsh, and we were told to go to  his offices just off of Covent Garden a couple of days before.  When we arrived we were introduced to none other than Norman Petty and old friend Roy Orbison who we had toured with earlier.  Norman knew of our antics in the studio, in fact, Mike Smith of Decca sometimes used to laughingly walk out of our sessions and come back only if we promised to take it more seriously.
When the session got underway Norman Petty insisted that this song Someone Someone had to be sung softly and with feeling.
Now we had been on tour for ages all over the world, so soft singing had kind of rasped out a little.  Norman got on the piano and he and the Trems succeeded in using 3 of the 4 tracks putting down a really fine backing track with vocal harmonies by Petty, Blakley, Munden and me.  We found Norman to be very serious especially about Someone Someone, but when he suggested to me that I lie down in the recording booth to sing the top line, the rest of the Trems could hardly keep straight faces and suddenly everybody even Norman were laughing loudly.
So there I was on my back, feet up, on a chair, ready to sing probably one of the best song we had ever been graced with.  Was this a good idea?  Well Al Blakley the leader of the Trems and my best friend, suddenly appeared in the booth window, both thumbs up and a gigantic smile on his face.  He stayed there, and in one take (it had to be because that's all I had) I completed the song.  When I heard it I was very satisfied and after completing another song (After Awhile), we pulled Mr Petty from the piano to the local pub, only to find he was teetotal.  He sat with us throughout though and asked that we treat Someone Someone as a special track.  It was released later on Decca, and just as he had said it was the song that made people realise we were not just a dance band.  Someone Someone reached No. 2 in the UK charts and No. 1 in many other countries, becoming a favourite of the British Forces especially overseas.  It and has always been a song about which people will come up to me and say 'This song brought us together or kept us together through the hard times, when we were away from each other'.
I thank Edwin Cohen for a peach of a song, that is still a massive favourite in our act, even if it is nearly 50 years that we have been singing it.