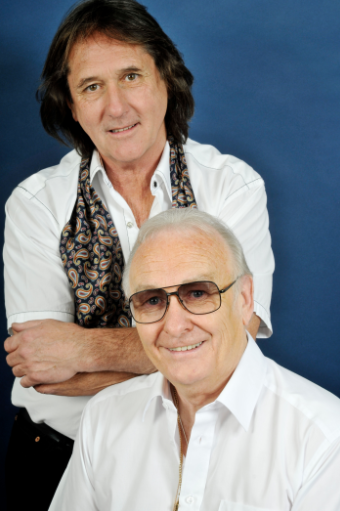 BRIAN POOLE & CHIP HAWKES
Brian Poole & Chip Hawkes are the lead singers with the Tremeloes and led the band to many multi million selling records including 'Silence is Golden', 'Do You Love Me', 'Twist & Shout', 'Here Comes My Baby', 'Candy Man', 'Suddenly You Love Me', 'Someone, Someone', 'My Little Lady'. With two No.1's and 12 top five records to their name, they are guaranteed to liven things up. They first sung together in 1964-65 and now regularly sing their hits on some of the biggest tours in the UK. They also take their songs to many other countries where they also had No. 1 records in the '60's.
During the 60's Brian Poole & The Tremeloes had many hits and toured the world four times. Chip Hawkes and Brian Poole sung together during these years very successfully and afterwards Chip Hawkes took the lead vocals on all the later hits. The Tremeloes all went their separate ways a couple of decades later and it was not until Chip and Brian were asked to sing together again a few years on that they realised that there was still a chemistry and that they had sung between them all of the top hits of Brian Poole & The Tremeloes.
During their years as solo artists Chip Hawkes was very successful with his show Class of '64 and Brian Poole was touring with 'ReelinandaRockin' with many of the stars of the '60's.
Having the same birthday and star sign they see things in the same way which makes for an easy going show with the duo enjoying themselves nearly as much as their audiences.