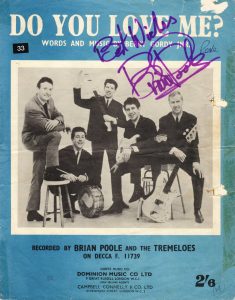 DO YOU LOVE ME
Twist & Shout had just been our first Top 5 single on the Decca label, and dance halls were thriving up and down the UK.  As long as bands played the up to date dance rhythms then they would probably be popular.  We first heard Do You Love Me, early in 1963 on an Oriel long player 33rpm sent to us from America.  On this album was a photo of the Contours, Billy Gordon, Billy Hoggs, Joe Billingslea, Sylvester Potts and Hubert Johnson and eleven great songs, five of them written by Berry Gordy Jnr.  Do You Love Me , Shake Sherry, Get In Line and Move Mr Man, were all great dance songs.  Quite a few bands were playing Contours songs and we decided Do You Love Me would most likely be our next single.  Everybody liked our live sound on these songs, but how could Decca reproduce this?  Should we try the same method as the one used on Twist & Shout, on which our own P.A. system was miked up in the studio?  Well that's what we did and 20 minutes later we had Do You Love Me recorded.  When I think back that was about 2 hrs worth of recording for 4 top selling singles.
Do You Love Me was one of our biggest selling singles and is still the song that everybody gets up and moves to, even in theatres.  We could not and did not try to emulate the Contours just putting our slant on the song.
When I listen to our original now it seems fast and furious, but that's how the dancing was in those years.  In fact people still ask why we didn't copy the Contours fade and come back at the end of their version.   Well the answer is everybody who was dancing to us, would have thought it was all over earlier than it really was, and stopped dancing.  Thanks to Berry Gordy they have been dancing to it ever since 1963 when it sold over 1 million and gave Brian Poole & The Tremeloes longevity, even if it's all a bit calmer now.