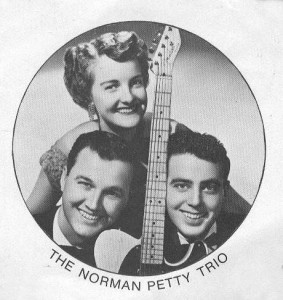 When in 1957-58 The Tremeloes and I wrote to Norman Petty asking him to send us any songs that he could suggest we feature in our stage act, little did we think that he would reply and send us songs including our eventual worldwide hit "Someone Someone".
When we went to see the Buddy Holly and the Crickets show at East Ham Granada (East London) Norman Petty said he would send us more songs, a promise he always kept.
Our office in the Kingsway, London WC2 in the early 60's was Starlite Artistes run by our manager, Peter Walsh, and he was promoting many tours along with Danny Betesh and Tito Burns who were also agents and managers. Jimmy Gilmer and the Fireballs had been having some success in England with their early recordings produced by Norman Petty and wanted to tour here. The obvious choice of promoter was, of course, the successful Peter, Danny & Tito so meetings were set up with Norman and Jimmy. The fact that Roy Orbison, Bob Lhuman and other American artistes all colleagues of Norman Petty had toured with Peter Walsh etc successfully, led to Norman Petty and Jimmy Gilmer having more meetings with Peter. So of course, the Tremeloes and me took every opportunity to talk to him. There was even some talk of us going to the States to do some backing vocals for him. (We had already backed many hit artistes vocally).
Just at this time we had sessions booked for Decca at Broadhurst Gardens their studios in London, and it seemed obvious that we should ask Norman to join us in the studio when we recorded "Someone Someone" a song which he had sent to us many years before. When we started performing the songs, which we had been featuring in our act for a some time he asked if we would like him to join us on piano. Well this was something we could not pass up, so of course, he joined us and played the piano and later guitar on not only this track but others such as "After Awhile" written by Jim Reeves and "Three Bells" another one of our hits. By the way "Someone Someone" reached No.2 in the UK and No. 1 in many other countries.
Maybe I should explain how our sessions worked in those days. We only had two tracks to work with (mono) and so the first performance of each song was totally live with everybody in the band playing and singing including the delighted Norman. He always said that this was one of his best musical memories. When we finished which was after about 4 hours (3 songs – 2 of them big hits). There was still time to go to the pub and although Norman did not drink on this occasion we managed to talk till closing time amongst other things about Buddy Holly and Norman's wife Vi another pianist with solos on a few Buddy Holly records to her credit. He also explained to us how the Crickets had made the percussion sound on "Everyday" by slapping the inside of their jeans clad thighs.
We met Norman a few more times in London and always took the opportunity to ask him questions about recording techniques etc, which he was only too pleased to help us with.
You could say that Norman Petty had an influence on Brian Poole & The Tremeloes, well yes he did. From sending us much of our early record material to encouraging this young band with many great ideas on harmony and instrumentation.
Thinking back I believe that much of Norman Petty's contribution to the eventual massive rise of Rock 'n' Roll in the world has been lost among other stories of his business life but I can honestly say that I only have good memories of Norman and am proud to have been associated with him.