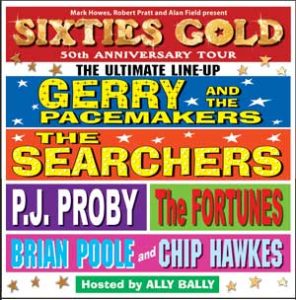 Featuring all the hits of the 60s from the original stars, this 50th Anniversary show brings together the phenomenal talent and nostalgic anthems of a golden decade, guaranteed to transport the audience back to the Swinging Sixties!
See our Events Page for tour dates and booking info.
Co-Headlining the bill, Gerry and the Pacemakers need little by way of introduction. Formed in 1959 by the legendary Gerry Marsden, the group rivalled the Beatles early on in their career, proving just as talented and popular at home and abroad. Most well remembered for their astonishing and record-breaking singles, "How Do You Do It", "I Like It", "Don't Let the Sun Catch You Crying", "It's Gonna Be All Right", "You'll Never Walk Alone", and "Ferry Cross the Mersey," the Liverpudlian beat group return to the stage with their infectious sense of humour, passion and enthusiasm.
Co-Headlining alongside Gerry will be fellow Liverpudlians The Searchers, who also emerged from the 1960s Merseybeat scene, releasing fantastic pop singles including "Sweets for My Sweet," "Sugar and Spice", "Needles and Pins," "Don't Throw Your Love Away," "When You Walk In The Room." With a huge following and an established reputation the world over, The Searchers continue to entertain thousands of people each year with their irresistibly catchy repertoire.
Next up we have English harmony beat group The Fortunes, who first came to prominence and international acclaim in 1965 when "You've Got Your Troubles" broke into the US and UK Top 10s. Following a succession of hit singles including "Here It Comes Again" "Storm In A Teacup" and "Here Comes That Rainy Day Feeling Again," the band were awarded a gold disc for over 100,000 sales of their All The Hits and More album.
PJ Proby, international hit recording star from the USA with such huge hits as 'Hold me', 'Together', 'Somewhere' and 'Maria'. PJ has achieved huge success all around the world and his truly amazing voice will have you on the edge of your seat.
Last but not least we have Brian Poole and Chip Hawkes, former Lead singers/songwriters of The Tremeloes. Brian and Chip lead the group to fame with such hits as 'Twist and Shout', 'Someone, Someone', 'Do you love me', 'Candy Man', 'Here comes my baby', 'Silence is Golden' and 'Suddenly you love me' .Having appeared on Top of the Pops countless times and toured all over the world, Brian and Chip are seasoned professionals and guaranteed to liven things up!
For all the children of the 50s, 60s and beyond, this show will have you enraptured in spell-binding nostalgia courtesy of the best musicians around. After seeing the show, you might well wonder if the music of today will last nearly as long!