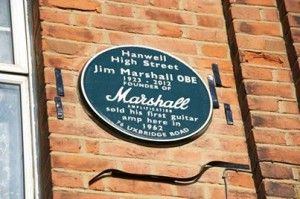 Circa April 6th 2013, 1 year and 1 day after the sad demise of my good friend Jim Marshall.
When I was asked to unveil a plaque commemorating the life and achievements of my good friend Jim Marshall, I was proud and pleased to do it on the 6 April in Hanwell, Middx. This is where Jim's first shop was and on the day I went and stood outside what used to be No. 76 Uxbridge Road for the first time since the Tremeloes and me were among his very first customers in the early 60's. Just along the road is where Amp No.1 was conceived and built. Beside Jim's family, colleagues and friends was a large crowd eager to see the plaque which I was to unveil about 10ft up on the building. Just as I was telling a story about Jim in his later years the plaque suddenly unveiled itself causing much surprise and a little chuckle! A great day and as usual Jim Marshall OBE was in control. Later in the day Hanwell hosted the Hanwell Hootie Music Festival which was a great success and will probably be an annual event now.
An inaugural festival in Hanwell was a big success at the weekend, as hundreds came out to celebrate their community and live music.
The Hanwell Hootie kicked off with the unveiling of a plaque in memory of Marshall Amps founder Jim Marshall, who sold his very first amps from a shop in Uxbridge Road and died last year.
Marshall Amps, now based in Milton Keynes, was a major sponsor for the event. After the unveiling, three pubs on the Lower Boston Road then played host to a number of bands as hundreds came out to enjoy an evening of live music.
Sound engineer Aleks Solinski, who helped at the event said: "Hanwell Hootie was inspiring to witness. Its reach had no boundaries, from the very young to the very old. It brought generations of music fans together. The event was a success of epic proportions.
One day I will tell you the full story of my association with the "Father of Loud".
I hope you enjoy the gallery of pictures taken from a memorable and proud day:
[scrollGallery id=17]